The Oscars & Me:
Just to give you all a little bit of background, I absolutely LOVE the Oscars. Oscar Sunday is without a doubt my favorite holiday of the year. I'm not sure if it's because I grew up in LA, so the Oscars were a bigger deal or more exciting than they would be elsewhere, but this day gets me more excited than a kid on christmas morning. I love the red carpet, and critiquing all of the dresses, but I equally love the actual awards show and the entertainment throughout.
The Host:
I personally thought Seth McFarlane was an excellent host; I think he was very funny and did an amazing job of walking the very thin line between inappropriately insulting and ridiculously hilarious. Yes some of his jokes might have insulted an entire gender or ethnic group, but this is Seth McFarlane, the creator of "Family Guy." I am pretty annoyed that people are complaining about his jokes, he did a really good job of toning his humor down so that it wouldn't egregiously insult anyone, while still being true to his comedic point of view. I mean the Academy doesn't consist of a bunch of hermits sitting in a cave with no TV or internet......they know who he is and why he's funny, if they didn't want that type of humor then they shouldn't have hired him.
Performance by the Les Mis Cast
The Overall Show:
I approve of the "theme" they chose for the Oscars this year. I loved all of the musical performances and tributes and it was so entertaining that I wish they would just have "Musicals" be the theme of every oscars. The little "bits" by all the presenters were great, and just to reiterate, I think Seth McFarlane was a fantastic host. My only point of contention is that it was implied that every Oscars from now on would have a theme, and I just don't see how other themes could provide as much great entertainment as the "musical" theme but I guess we'll just have to wait and see.
The Results:
I'm not going to talk about the winners of each award because there are just too many awards that I don't really care about; but I will talk about the 5 biggest wards:
-
Best Supporting Actress:
Putting aside the fact that I love Anne Hathaway (although I absolutely hated her outfit choice this evening) I do think she deserved this award. All of the nominees were great, but she really acted and sang her but off in Les Mis. Even the Anne haters that I know (yes, there is such a thing as an Anne hater.......I know, it's sad) agreed that her performance was very strong.
Third times the charm......
So was the second and the first.....
-
Best Supporting Actor:
Christoph Waltz........I
know he's a good actor, but I feel like he's always just playing some weird version of himself. This is called "Jennifer Aniston Syndrome," it's a real thing, I promise. I really would have preferred for Alan Arkin to win, but that's just because I love him and he's awesome. Nuff said.
-
Best Actress in a Leading Role:
J. Law! I loved the movie and I loved her performance in it. I think this was very well deserved; all of the nominated actresses were great but I think it's awesome that the award went to an actress in a smaller film. I was rooting equally for Jessica Chastain and J. Law, so I was 50% pissed off and 50% over the moon.
-
Best Actor in a Leading Role:
Daniel Day Lewis (or DDL as I like to call him) definitely deserved this Oscar. He played Lincoln perfectly and I totally understand why he won; however my heart was a little broken because I do think that Bradley Cooper did an astounding job in Silver Linings Playbook. DDL has already won 2 Oscars in this category, and B-Rad hasn't won any, so I was secretly a little bummed.
-
Best Film:
This category might as well not exist this year, because that's how I feel about the movie that won it. I know that's harsh, but Argo pissed me off and was annoying and I just think that there were other films that were more creative, well-made, interesting, cathartic, and compelling than this film. Also Ben Affleck and his stupid Argo-beard annoy me to no end. I don't have anything nice to say so I'll just stop saying anything about this category at all.
The Red Carpet:
Here are my top 10 hits and misses of the night!
This is
Jessica Chastain
in Armani Prive. In a word: Stunning! I have to admit that when I first saw her step out, I thought "Oh, she looks good, but played it safe with an 'Old Hollywood' look." But each time they showed her, I noticed more and more details of the dress and I fell in love. All of the lines created by the embellishment work so well for her figure, and it only gets more stunning the closer you look. I also like the little bit of corset-like structure that the top of the dress has. Her styling, hair, and make-up were impeccable, which never hurts. This dress is almost the same color as her skin so it should wash her out, but somehow it doesn't at all. I think she's pulled it off and everyone should be jealous, I know I am.
Sad day
Anny Hathaway
, sad day. There is just so much wrong, everywhere, in every way. My theory is that she chose a dress with so many barf-worthy flaws that they each distract from one another and the dress almost works because you can't focus on any one glaring offense........but you can't fool me Anne. I see the weird darting that emphasizes your nipples, I see the cheap highschool-prom looking fabric, I see the crazy old cat lady silhouette, I see the awkward pink color that washes you out, I see your chunky necklace that you threw on last minute to try to distract from your omnipresent nipples.......I see it all. What I don't see is your thought process in selecting this dress. Sorry, I love you, but you need to make better life choices. This is Prada by the way, and it's a sad day for them too. The End.
Naomi Watts
is gorgeous and edgy in this Armani Prive gown. I love the structure, the asymmetry and the way the sparkle has a hardware-like edge to it. It fits her like a glove and this metallic works well on her. Her styling is also spot on and I just love structure and lines of the bust/shoulder area! Just the right amount of edgy. Love love love.
This is
Nicole Kidman
, wearing the evil twin of Naomi Watts' dress. Although the dress is by a different designer (L'Wren Scott) it is just as covered in sparkles as Naomi's, except this time it didn't end well. The sparkles/sequins look a lot cheaper than Naomi's dress, and there are too many competing elements going on here. The bottom of the dress looks like bad coffee shop art from the 90's and the top of the dress isn't much better. The random strike of gold across her midsection looks like it was haphazardly placed there by a 5 year old who wanted to be avante-garde, and the top golden part of the dress is just distracting because the sequins look like they came from a cheap craft store. The silhouette is also nothing special at all, but even if the silhouette were more unique I don't think that the dress would look much better. Everything that Naomi's dress did right this one is doing wrong.....oh so wrong.
This is
Kerry Washington
in Miu Miu, and I love it! I am always a sucker for Miu Miu and this is no exception. It's always a risk to wear red on the red carpet, but I have to say that in this case it worked out. The embellishment and texture of the top of the dress are breathtaking, and are balanced out perfectly by the strong color of the rest of the dress. The dress fits her perfectly and I like her simple styling. I do wish she had worn earrings with a little more sparkle, but I still think that overall this was a definite hit!
This one was a tough one for me, it's
Amanda Seyfried
in Alexander McQueen. I normally like what she wears, but this one was just a little bit off. It's not horrible by any means, but I really didn't like the halter/neck part. The material and detailed embellishment are stunning, as is the fit of the dress, but the top part reminds me of an S&M collar........in a bad way. You also can't tell in this picture, but the "breasts" of the dress are higher than her natural breasts; it looked off most of the time that she was walking around the red carpet. I want to say it's breathtaking, but for me, it's just not. That said, Seyfried herself looks gorgeous and I love her updo.
Here is stunning
Charlize Theron
in Dior Haute Couture. Although the dress is simple, the overall effect is breathtaking, although how can it not be when you have that face? Honestly, Charlize is just so gorgeous that she could probably make a trashbag covered in old fritos & onion rings look gorgeous. I have to say though, that putting aside my near lesbian adoration of her beauty, her dress is beautifully constructed and the silhouette is stunning. It has just the right amount of edgy design elements, and fits her perfectly. Her simple styling allow the dress (and her face) to shine. If only all things could be this perfect........(I'm not even sure what that means, but lets face it, it's true)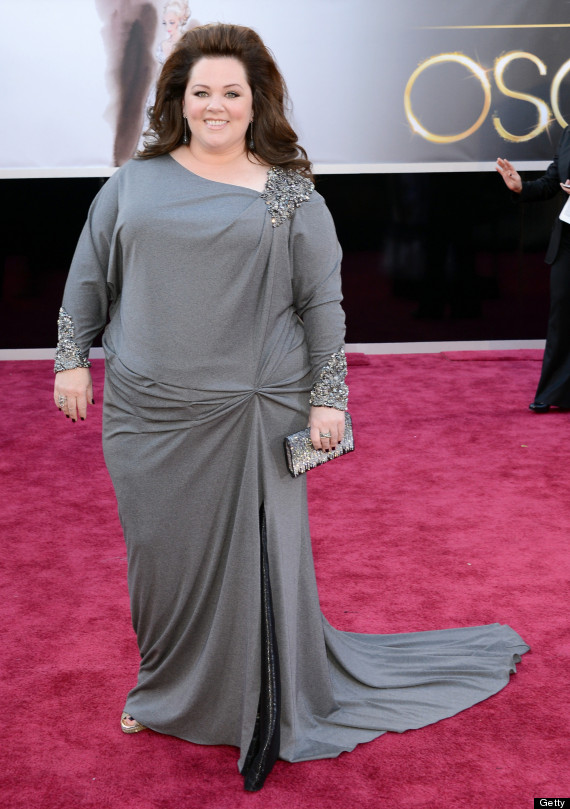 I am going to attempt to avoid any size related jokes (although many come to mind) because there are many far more serious problems with this dress. This is
Melissa McCarthy
in David Meister by the way, but that is of secondary importance. First of all, her hair was HUGE and scary. It looked super dated and was not flattering at all; it also was not very shiny and looked like it had too much product in it. The dress itself is in a horrible shade of grey; there are some gorgeous shades of slate grey and metallic grey out there, but the designer chose to ignore those and went with the most flat, boring grey known to man. In addition, the dress has next to no design, and the little "design" that it does have doesn't really flatter Melissa. The dress is very tent-like, which is the super-stereotypical way of hiding a fuller figure; any designer worth his weight in chiffon known that there are far better ways to flatter a full figure than to throw a tent over it. I'm not going to say any more because I really have nothing good to say, and it saddens me since I do love Melissa McCarthy.
In stark contrast to our previous, full-figured mishap here is full-figured beauty
Octavia Spencer
in a gorgeous Tadashi Shoji gown. This is a perfect example of the correct way to dress a full figure. I love the color of this gown with Spencer's skin. The oh-so-delicate wrapped layer around her shoulders is gorgeous, especially with the way the structured and lightly embellished bodice comes out from underneath; a perfect combination of hard and soft design elements. This dress and silhouette are gorgeous and very flattering, and Spencer's styling perfectly compliments the dress.
Last but most definitely not least, is
Jennifer Lawrence
in Dior Haute Couture. Stunning, gorgeous, stunning, stunning. The dress was simple, structured, and elegant. The architecture of the dress is impeccable, and the way the dress bells out at the bottom is gorgeous. The material itself is also a thing of beauty, you can tell it is heavy and substantial, and the pattern on the material adds a wonderful depth and texture to the dress. You can't tell in this picture, but she has a thin diamond necklace on that was draped in the back rather than in the front, and I absolutely loved that idea. Her hair and makeup are perfect; this look is 100% perfection.
Honorable (or dishonorable) Mention: K. Stew
Kristen Stewart's
Reem Acra dress is gorgeous! It was by far my favorite dress of the night, on my least favorite person. K. Stew herself was a hot mess, here hair looked like she had just rolled out of bed. Her facial expression (more like lack thereof) just made it look like she was about to doze off at any second. Great dress, wrong girl.
Aaaannnndd that is my take on the Oscars 2013. Love it, hate it, or most likely be annoying indifferent about it, it is what it is. Let me know what YOUR thoughts were on any and all aspects of the night in the comments section, I'd love to know!